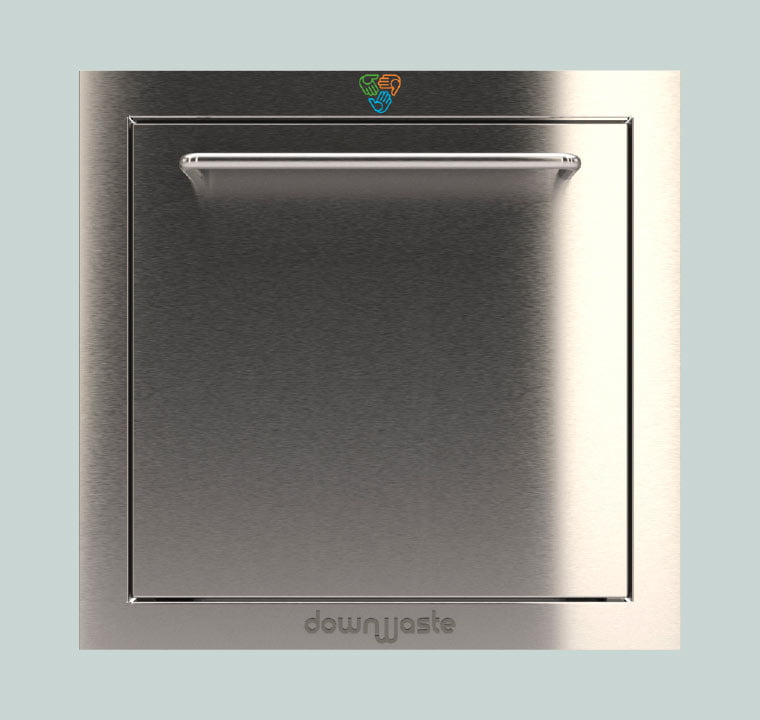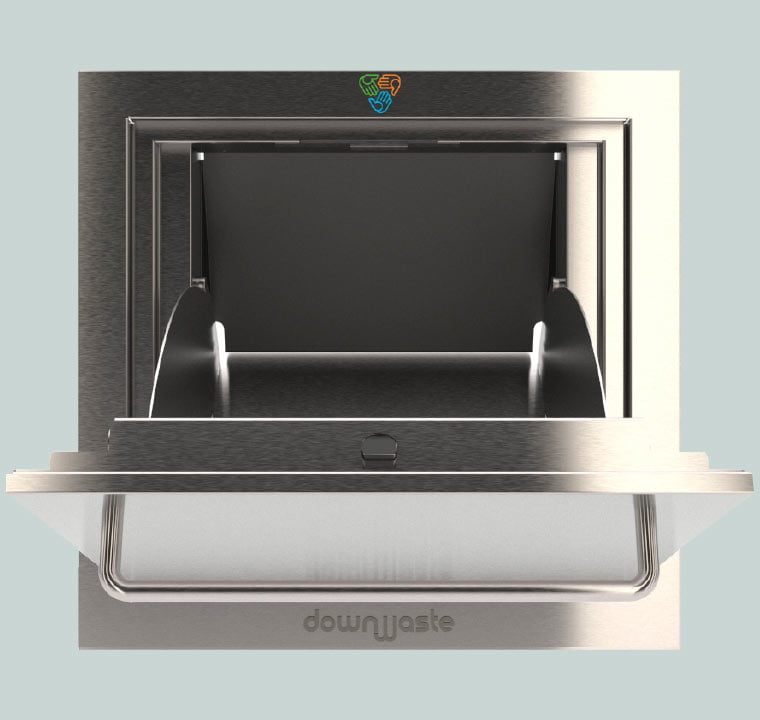 Our urban disposal solutions contribute significantly to effective and efficient waste management, and enhance the well-being of residents and building operators. Our solutions are always environmentally sustainable and in compliance with the applicable regulations.
Although disposal is about getting rid of something without a return, our experience demonstrates that sustainable management of household waste can result in more benefits for our customers.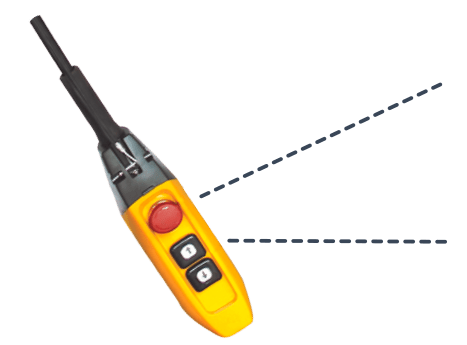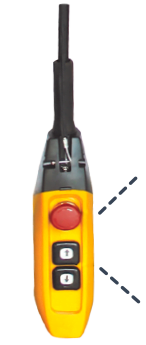 EMERGENCY STOP BUTTON
Standard on all models, twist and release operation to shut off power in the event of an emergency.
DURABLE PUSH BUTTON PENDANT
Low voltage push buttons with a positive action and strain relief wire, moulded into the pendant cable for added support and durability.
Equipped with a sanitizing liquid tank and dosage pump which injects degreaser and a disinfectant solution into the water flow that is sprayed inside the chute.
An extra Pendant control lifts/lowers the brush unit manually for maintenance.
The brush has a rubber cylindrical housing with embedded stiff nylon brushes which are lowered and raised by a geared electric motor.
The nylon brushes scrape and clean the internal surface as they move up and down in the chute.
The flushing spray head at the top of the chute and the floors disburses a cleaning solution down the inside of the chute to control odours and bacteria.
The safety interlocking check mechanism ensures no doors can be opened unless the cleaning cycle is completed and the brush is in its designated place at the top.
Chute Doors are supplied with a 24V electric strike with a micro-switch to indicate a door status change (open or closed). This feature enables monitoring the status of doors on different floors. It also allows for electrically locking of the hopper doors for chute maintenance or interlocking when one of the doors is open.
12"x12" (300x300mm)
15"x15" (395x395mm)
15"x18" (395x450mm)
15"x24" (395x600mm)
18"x18" (450x450mm)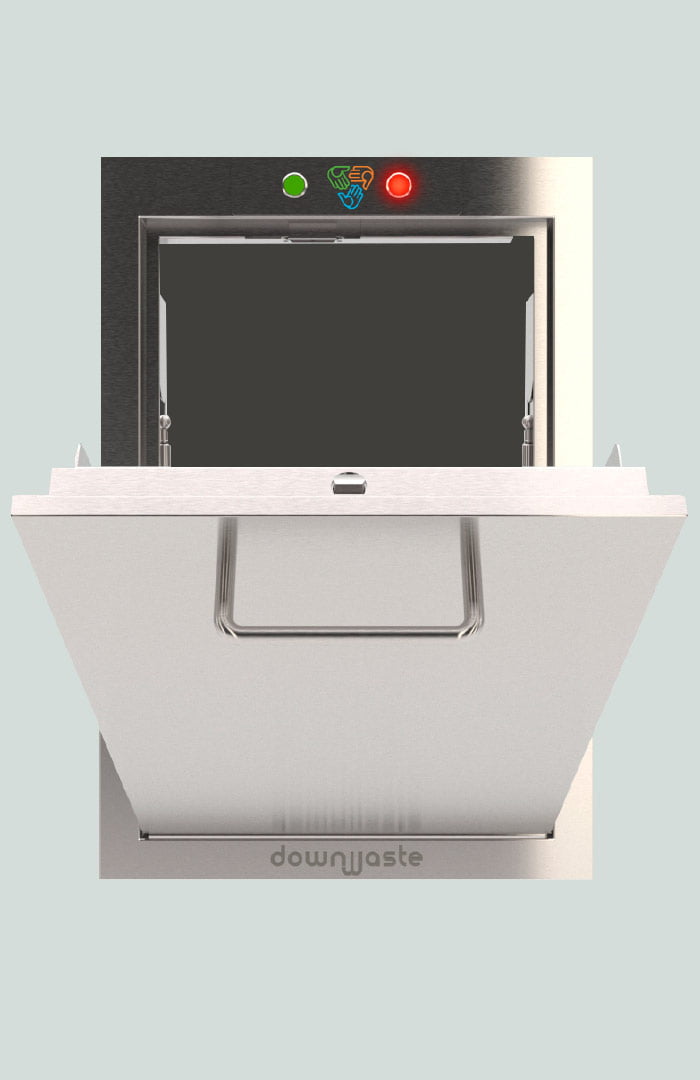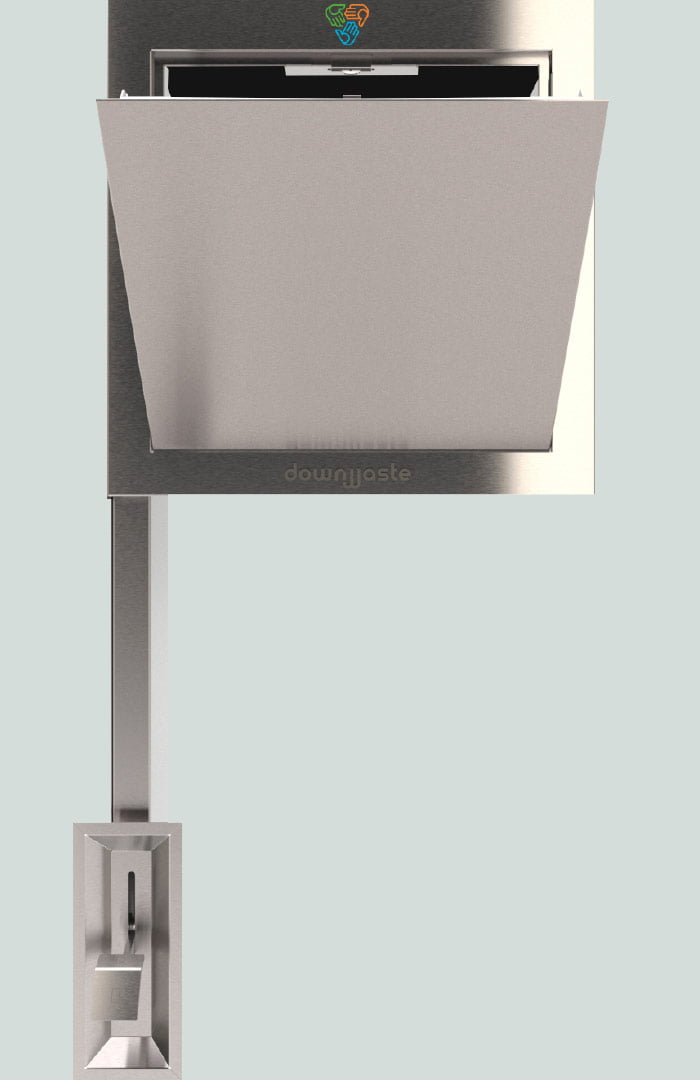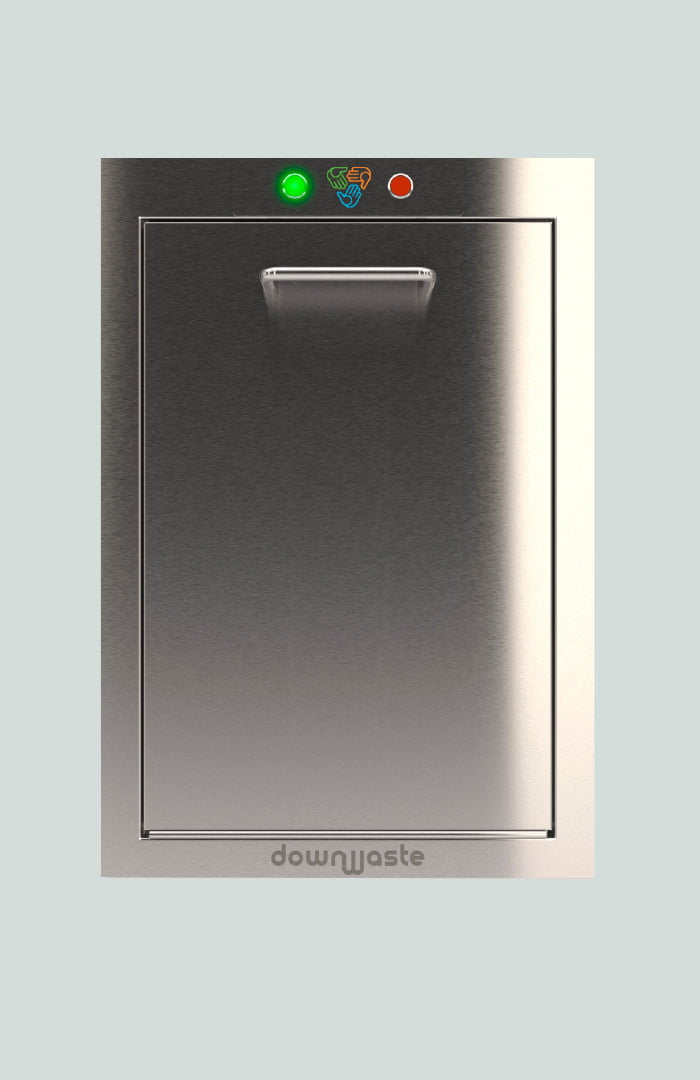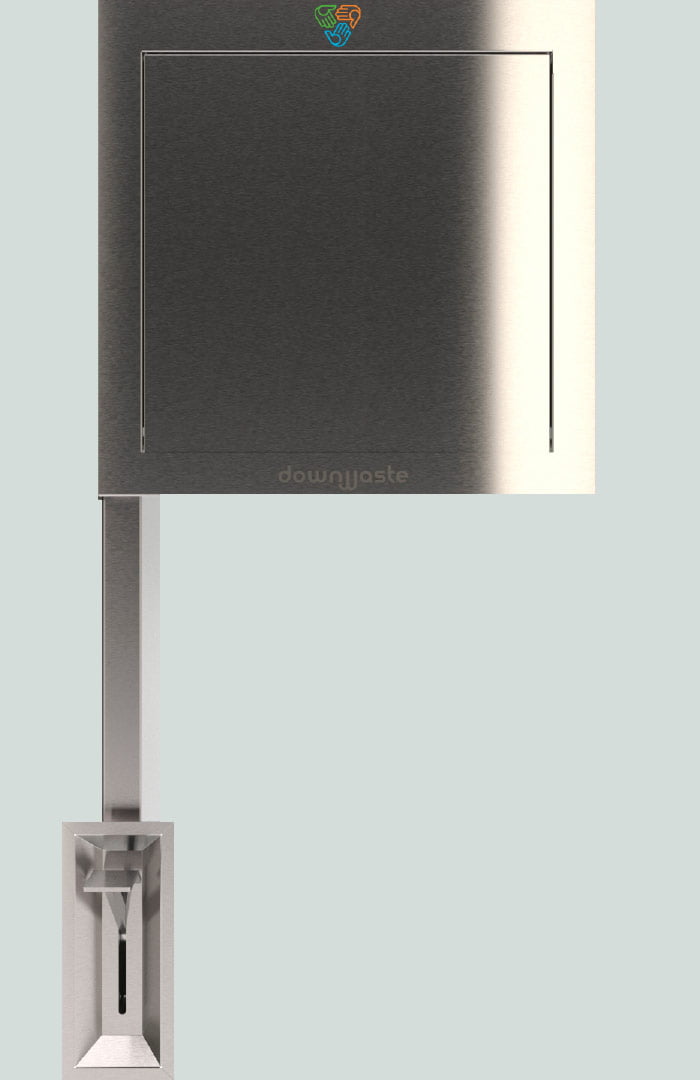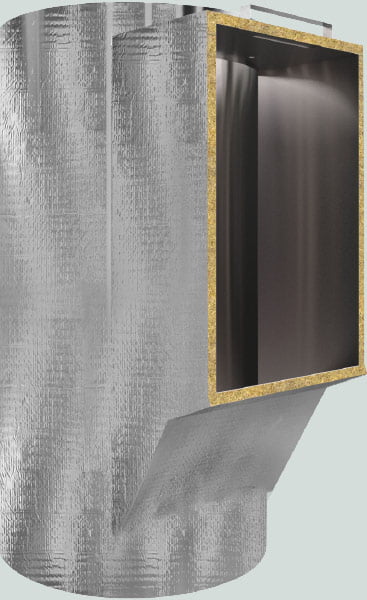 The leakproof chute trunk has a smooth surface and is welded seamlessly. There are no bolts, rivets nor projections protruding into the chute. A 2mm Sound deadening coating is applied on the exterior of the chute that inhibits any unwanted noise from falling garbage. As an Option an extra 25mm foil faced fiberglass insulation coating is wrapped around the exterior of the chute.
MATERIALS
SS 304
SS316
SS430
GI
Galvalume
DIAMETER
500mm
600mm
700mm
800mm
THICKNESS
1.29 mm
1.5mm
2mm
2.5mm
600mm diameter, 1.5mm thick SS 304 is standard. Recommended due to its resistance to alkalis, acids and humidity which may occur in waste chutes.
Stainless Steel 304 Vent extends above the roof by Minimum 1200mm with an NFPA compliant blast cap. Ventilation of the chute is required to extract the foul air to the atmosphere through the opening of the chute system. The full diameter vent comes complete with roof flashing, riser and metal safety cap.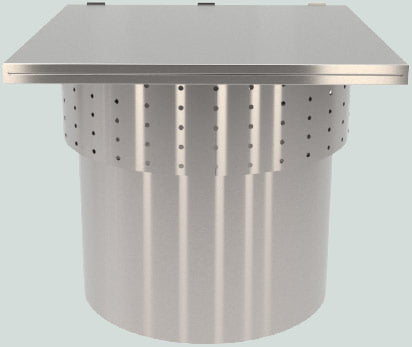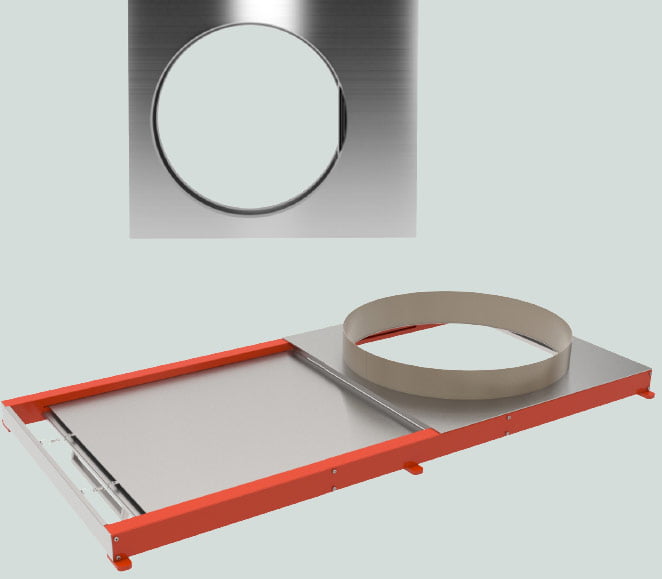 The discharge is a UL labeled 1 1⁄2 Hr Fire Rated Accordion Damper held open by a 72°C fusible link and equipped with tension coils on either side of the damper to permit closing in case the link breaks.
An inclined guillotine Type Shutter Door held open by a U.L. listed fusible link. The fire door will roll shut if the link is melted. The 4mm safety plate can also be used as a safety plate for protection from falling objects during the replacement of the trolleys.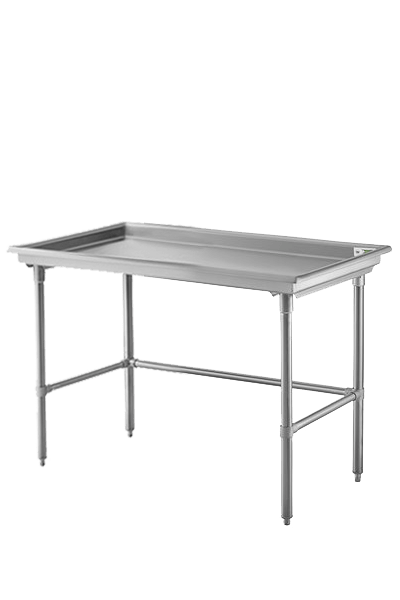 METAL WORKSHOP
Sorting tables for your indoor recycling facility.
What is Garbage Chute System?
Garbage chutes are the most convenient means of delivering the waste from floors to the waste collection room via fire rated garbage chute doors. The chutes installed in the residential cores are used to transfer the solid waste to waste collection rooms through the chutes. With garbage chutes, removal of garbage by hand is a thing of the past.
Who Needs Garbage Chute Systems
Multi-Storey residential and commercial buildings where a lot of garbage is generated and removal of the garbage by the residents is not possible. So, all the multi-storey buildings where garbage is generated need an efficient garbage chute system.
Why is A Garbage Chute Important?
In large buildings, it is not practical for residents, employees or even cleaning personnel to move large quantities of trash from floor to floor on elevators or stairways. Without garbage chutes, the trash bags are typically left in front of each door or a designated garbage bin until building operator comes to collect them. Garbage collection is done by a service elavator manually, and frequent cleaning of the bins placed at floors is required due to the liquid leaks from trash bags. This not only poses a potential for attracting insects, rodents and other pests, bit also increases building maintenance costs. Furthermore, the manual collection requires a service elevator to be occupied for hours every day, not the mention the smell in the elevators used. Garbage chutes provides a safe, efficient and convenient disposal from the floors without a need of a service personel and a separate garbage room at each floor.
Benefits of Using Garbage Chutes
Access to a trash chute means that the persons working in a building are not required to move garbage from their office to an outside dumpster. Because a trash chute makes waste disposal so easy and convenient, buildings equipped with a trash chute, generally, do not experience as many problems with trash accumulation and improper disposal by employees as buildings without a trash chute. In buildings where the chutes are not available, the trash bags are often left in front of each door until building operator collects them. The hot summer months also contribute to the rapid degradation and purification of waste and is therefore an important factor when considering the collection schedule for garbage.the garbage movement in a building cannot be regulated.
There are two types of chutes, the most common is the Gravity Garbage chutes that discharges into a garbage room. differs based on their capacity, type of hopper doors used and the type of materials it is made out of.
First, the standard garbage chutes are made out of stainless steel 304/316/430 or Galvanized Stell, Aluminized Steel rolled metal trunks.
Second, the hopper doors can also be made our of different materials, mostly bottom hinged hand operated, foot operated with mechanical self closing or electric self opening and closing.
Third, garbage chutes differ based on the electric accessories included, for example, a fully equipped garbage chutes comprises of pressurized spray nozzles for hor water and disinfection application with brushing device, exhaust fan, receptive bin full sensor integrated with automatic bin conveyors and bin press machines or compactors.
Last but not least, gravity garbage chutes differ depending on the sound insulation coating applied, further thicknesses of sound insulation coating on the chute is a must have. Additionaly, external foilded glasswool or rockwool application is recommended to further reduce the sound created by the falling solid objects in the chutes.
The second type of chute is called a pneumatic garbage collection system, where chutes do not discharge in the building but are connected to an underground horizontal pipe network that sucks the solid materials into a central collection unit by negative pressure with air valves.
How Do Garbage Chutes Work?
Typically, bagged residential waste is deposited into the chute from the hopper doors, and the garbage then falls into a garbage bin positioned at the ground level or basement level of any building.
What are The Main Components of A Garbage Chute System?
The main components of a chutes comprises of a vent cap, chute pipes, chute intake units, support brackets, anti-vibration pads, Offset elbows, discharge fire damper, intake hopper doors, brushing device, main flushing solenoid valve, disinfection tank and dosage pump, fire and flushing sprinklers, electric control unit and the exhaust fan, as well as the chute fed compactor or a bin conveyor/carousel mechanism.
Can Garbage Chute Systems Be Installed in Old Buildings?
In buildings where the residential cores has an available vertical shaft providing 80x80cm clearance would be applicable, otherwise an external application of the chutes can be a solution.
Get A Quote for Garbage Chute supply and Installation
Fully equipped trash chutes costs less than 250$/Flat in a typical 10 floor building,