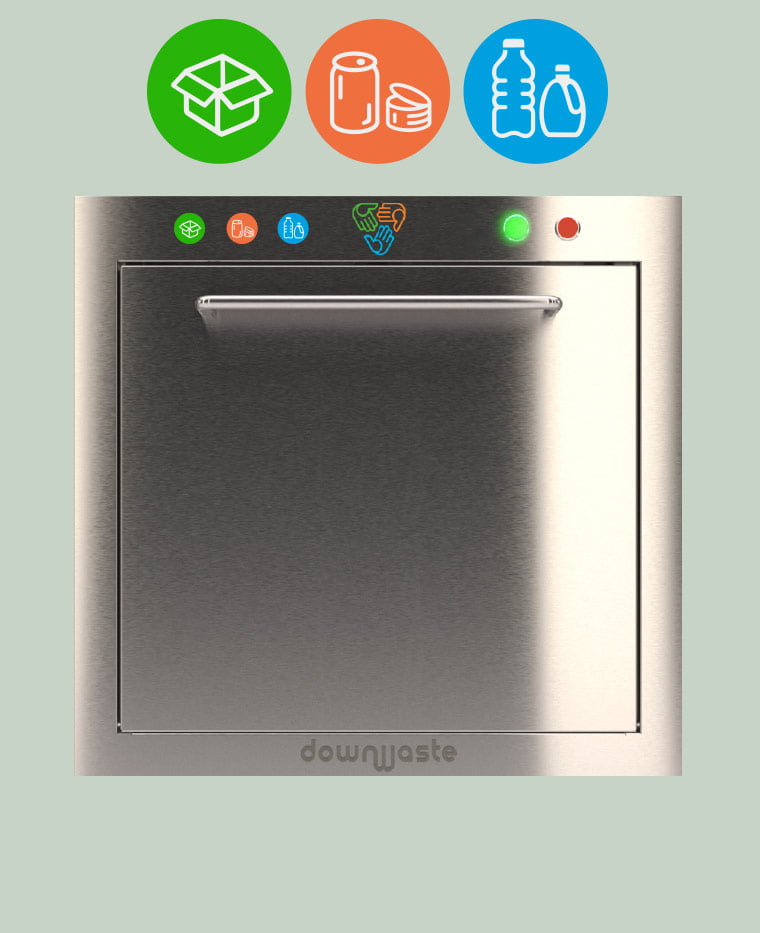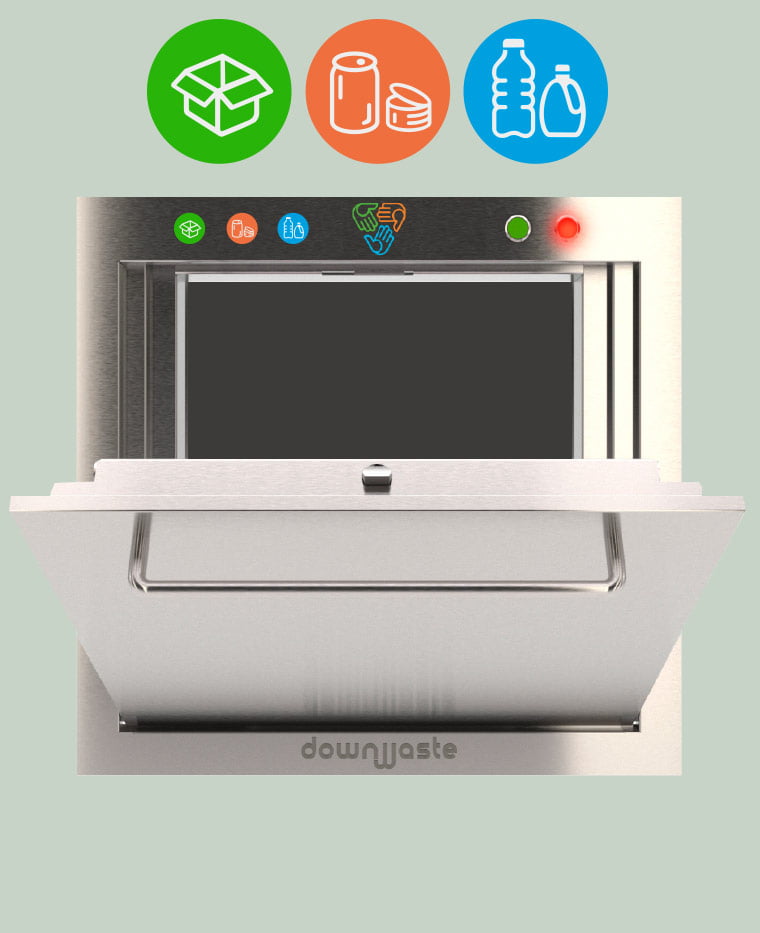 This simple and effective system not only saves space, and reduces handling costs but also transforms waste into a valuable waste product. This is key to sustainable waste management and a basic in transforming into a "green" building. With the TriSorter, your building will have the high quality of sorted metals, cardboard and plastic packaging from a single recycling chute with a press button selection panel, a cost-saving, eco-friendly amenity and a selling feature of the building.
Recycling Chute Structure
Although disposal is about getting rid of something without a return, our experience demonstrates that sustainable management of household waste can result in more benefits for our customers.
INCREASED PRODUCTIVITY
Less time spent on waste collection means more time for the staff to concentrate on other activities.
IMPROVED HYGIENE
In order to prevent bad odors and bacteria from flourishing in the chute, we reconsidered the waste handling strategies and equipped the internal waste handling process with advanced automatic cleaning systems.
WHISPER, WHISPER
We designed a quiet and sophisticated system to work for your building or hotel. Our chutes are isolated with anti-vibration rubber pads and coated with sound dampening paint and aluminium foil fiberglass wool.
SAFETY FIRST
We deploy UL 10B 90 Minutes Fire Rated Door Assemblies with automatic electric strike locks for ultimate safety of residents and building operators alike. The simple to use automatic control unit was designed to undertake all operations safely and quickly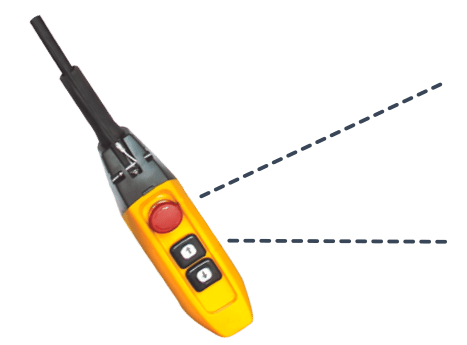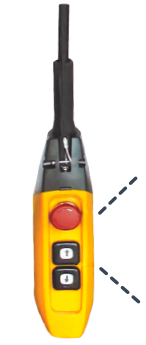 EMERGENCY STOP BUTTON
Standard on all models, twist and release operation to shut off power in the event of an emergency.
DURABLE PUSH BUTTON PENDANT
Low voltage push buttons with a positive action and strain relief wire, moulded into the pendant cable for added support and durability.
Equipped with a sanitizing liquid tank and dosage pump which injects degreaser and a disinfectant solution into the water flow that is sprayed inside the chute.
An extra Pendant control lifts/lowers the brush unit manually for maintenance.
The brush has a rubber cylindrical housing with embedded stiff nylon brushes which are lowered and raised by a geared electric motor.
The nylon brushes scrape and clean the internal surface as they move up and down in the chute.
The flushing spray head at the top of the chute and the floors disburses a cleaning solution down the inside of the chute to control odours and bacteria.
The safety interlocking check mechanism ensures no doors can be opened unless the cleaning cycle is completed and the brush is in its designated place at the top.
AUTOMATIC CONTROLS,
WASTE GENERATION,
& WASTE MONITORING
The main electrical Control Panels have been designed for easy and instant control of the chute features. The control panels consist of electrical security switches and controls for activating the functions such as locking/unlocking the doors, activating cleaning and disinfection systems and the exhaust fan. The control panel visually shows the operators the status of doors on all floors and of all chute systems.
SAFETY
The system is equipped with sophisticated heat and smoke detectors, overlaod sensors and maintenance safety sensors.
12"x12" (300x300mm)
15"x15" (395x395mm)
15"x18" (395x450mm)
15"x24" (395x600mm)
18"x18" (450x450mm)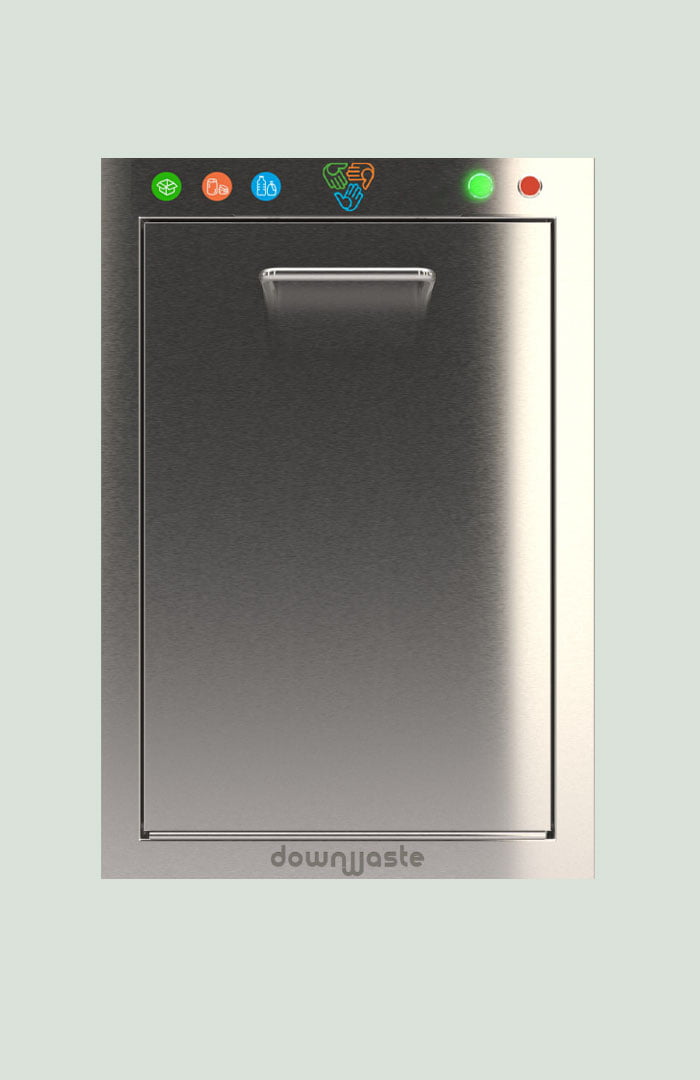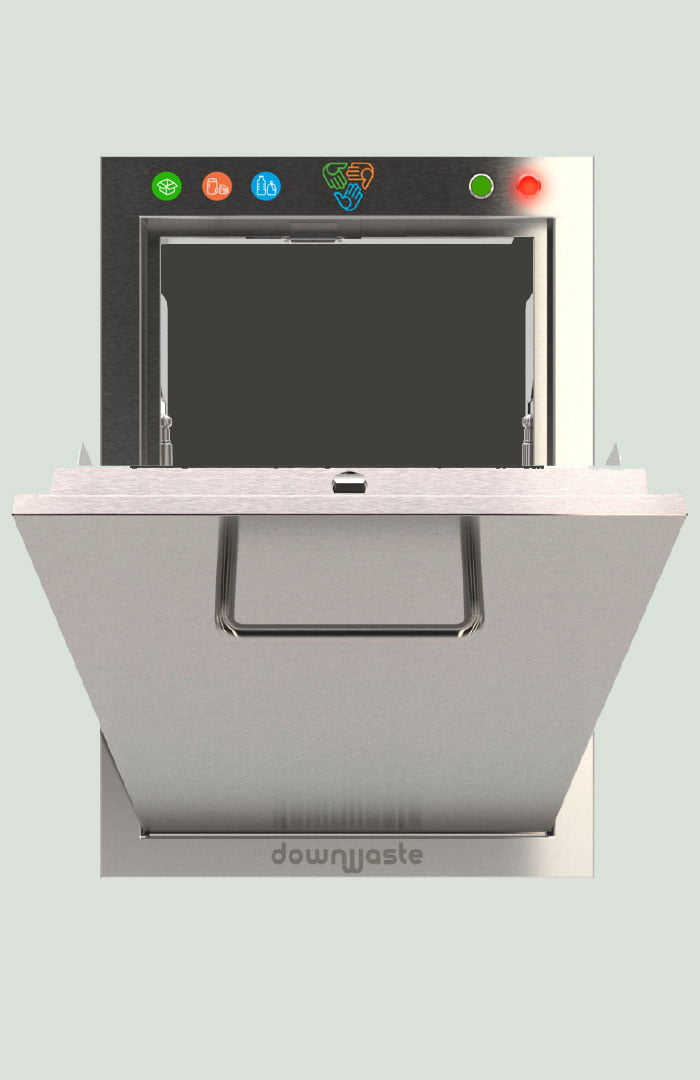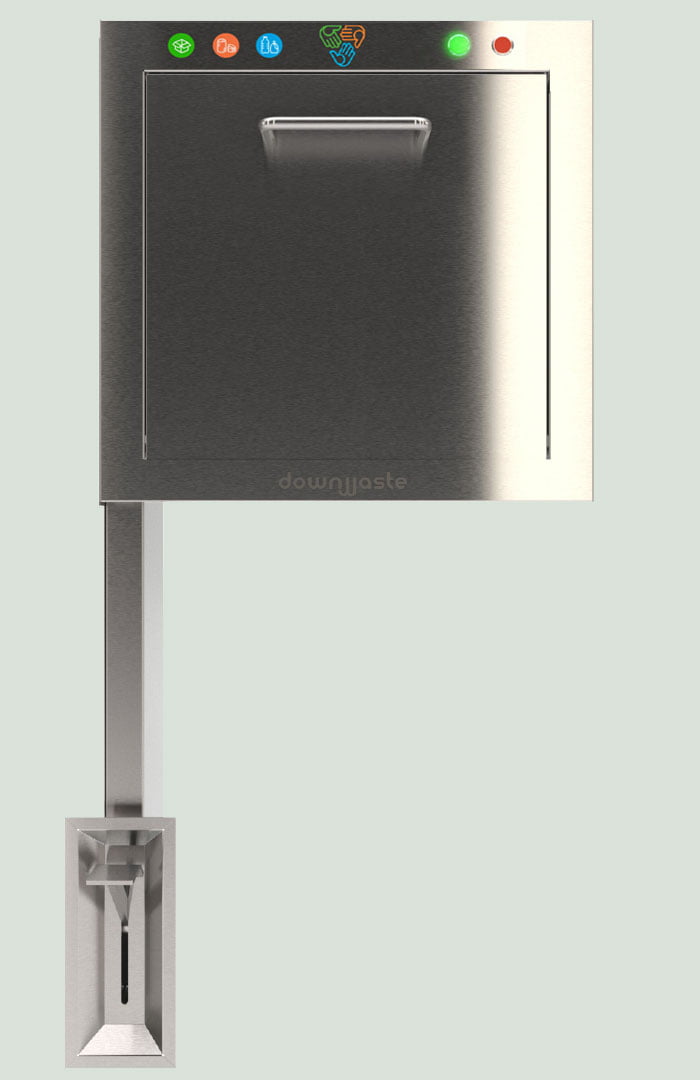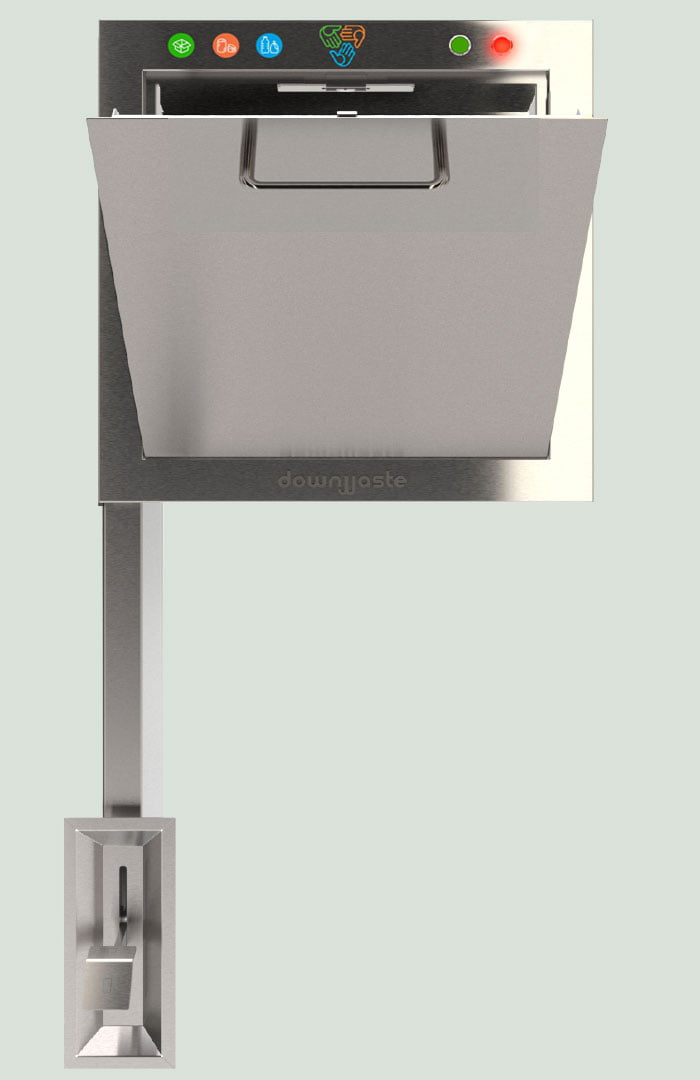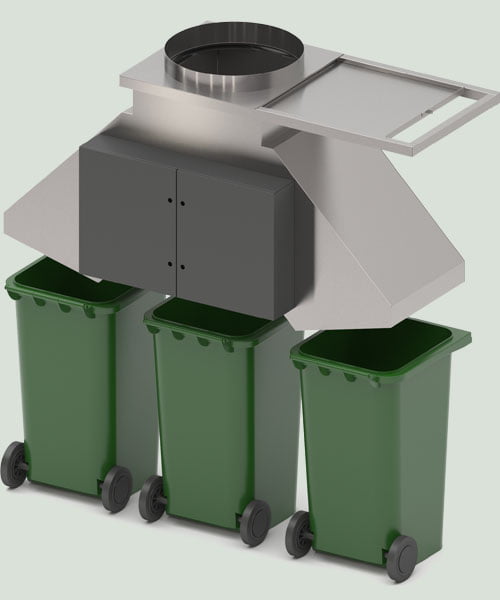 The household waste is composed of large amounts of recycable paper, cardboard, plastic and metal containers.
Sorting of valuable recyclables such as "Metal Containers", "Plastic Containers" and "Paper & Cardboard".
The proximity sensors positioned at discharges are interconnected with the chute and when one of the trolleys is full, the doors are locked automatically and the operator is informed through BMS.
In order to sort the "Dry Recyclables" and "Wet Waste" easily in your building, a bi- sorter will be the convenient solution.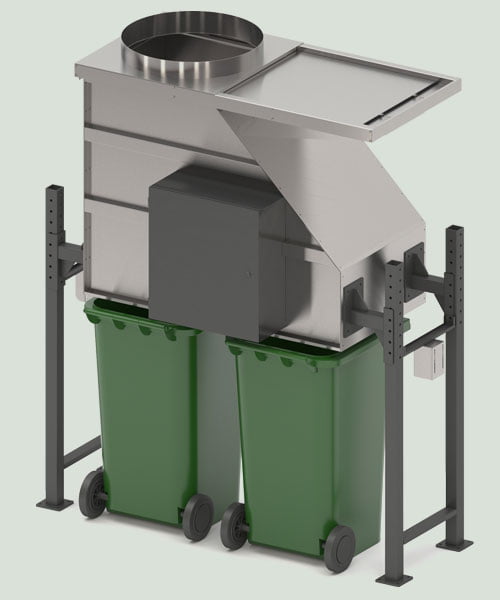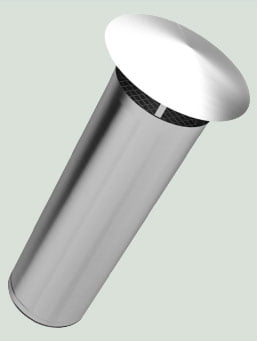 The chute vent consists of a reduced diameter stainless steel vent, rainproof umbrella cap, a mounted venting fan, bird screen and draft control mesh.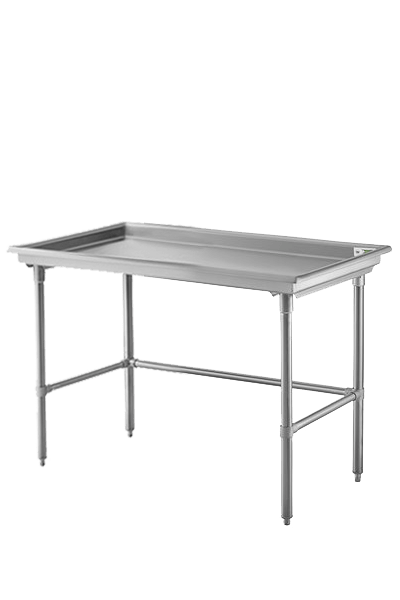 METAL WORKSHOP
Sorting tables for your indoor recycling facility.
What is a Recycling Chutes?
Besides the advantages of a garbage chute, recycling chutes provides the convenience of separate collection of recycable materials from a single chute system.
Who Needs Recycling Chute Systems
Multi-Storey residential and commercial buildings where separate collection of recycables are required.
How Do Recycling Chutes Work?
Recycling chutes do not separate the falling objects automatically, instead it provides users with press buttons enabling recycable type selection. In other words, users are required to choose the type of recycable each time before they can discard the materials. These buttons controls the deflector plates at the very bottom of the chute, and the discaded objects are directed to the selected waste type receptive bin.
Why is A Recycling Chute Important?
The waste segregation and indoor management aims to achieve highest recycling rates and minimize the waste amount that goes to landfill from the compound. The required equipment to separate the wastes streams effectively, reduce the waste amount and generate income for the building.
Benefits of Using Recycling Chutes
Recycling Chutes minimize the environmental impacts of the operations of the development – this will be achieved by ensuring maximum diversion of waste from landfill; correct storage and transport of materials; correct segregation of materials into appropriate management streams; awareness among tenants of waste avoidance practices.
Recycling Chutes help generate income to your building from your valuable recyclable materials – this will be achieved by implementing systems that assist tenants to segregate appropriate materials that can be recycled; and your modest indoor recycling equipment will be enough to make sure the recyclables are in the desired form and highest value to be sold to the contractors.
With recycling chutes and commitment to good waste practices, 75% of the generated recyclables can be diverted from landfill and transformed into tradable assets. In other words, with proper segregation, majority of valuable recyclables and compost material can be gained by selling to recycling contractors. This also means 75% reduction in disposal and transport costs.
What are The Main Components of A Recycling Chutes System?
In addition the the standard components that a standard gravity garbage chutes, recyling chutes include the selection panel at hopper doors as well as a e-diverter device at the bottom of the chute.
Can Recycling Chutes be Installed in All Buildings?
Yes, as far as the buildings are designed suitably considering the accessible garbage chute slab and the garbage collection area where the chute directly discharges into.
Get A Quote for Recycling Chutes Installation
Fully equipped recycling chutes costs less than 350$/Flat in a typical 10 floor building,
Are There Any Regulations Governing Recycling Chutes?
Yes, each country and city council has its own directives on management of waste in the buildings. In most cases, dry recycables and the residual waste are required to be collected separately with color coded bins.
Are Recycling Chutes Different From Regular Chutes?
Yes, recycling chutes comes with e-diverters and type selection press buttons, and users are required to select the type of the materials they will discard before they open the chute hopper doors.